It really fits. Really worth it.
We've packed our most powerful chip into our most popular iPhone size, plus it's worth more than ever. iPhone SE is exactly what you've been waiting for.
High, high, high, high-definition videos.
4K video means you'll see four times as much detail as 1080p HD video. And thanks to the extended dynamic range, shadowy and bright details will appear more balanced than ever before.
Main button. By popular demand.
With Touch ID, you can safely unlock your iPhone and log in to applications immediately. With Apple Pay, you can even pay with it at the coffee shop, buy a yoga app or a new pair of shoes online. All this without taking out your bank card.
Smile, your portrait is being taken.
The advanced camera system, complemented by the A13 Bionic chip, enables the Portrait mode, which artistically blurs the background of photos so that attention is focused on the model - even when taking a selfie.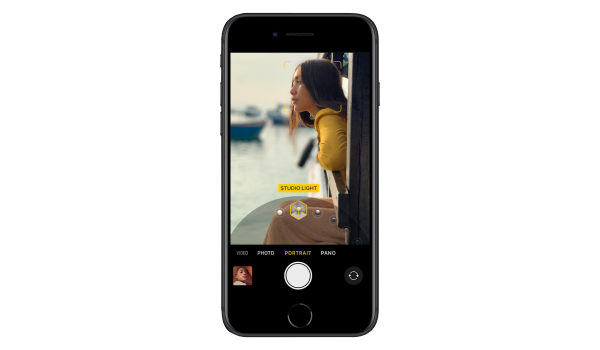 Decent uptime.
There are never enough good shows. iPhone SE allows you to watch up to 13 hours of video on a single charge. If you need to charge the device, just put it in a wireless charger or connect it to an 18W fast charging adapter to charge it from zero to up to 50% in 30 minutes.
It has the iPhone 11 Pro chip and isn't afraid to use it.
We put the brains of the iPhone 11 Pro in the housing of the iPhone SE. The A13 Bionic is the fastest chip ever installed in a smartphone, that's indisputable. Every process is smooth, whether it's launching applications, playing with the latest games, or working with augmented reality.